Are you dreaming of hiking the entire Appalachian Trail?
Then 'get thee to the'
APPALACHIAN TRAIL INSTITUTE
located in the beautiful mountains of northeastern Tennessee at the Appalachian Folk School
(twelve miles from the Appalachian Trail in Damascus, VA)
About the ATI...
Is there a long distance hike on the Appalachian Trail in your future? Do you want to increase your chances of completing the entire journey? Do you want to save money by not buying equipment and clothing you don't need? Then the Appalachian Trail Institute (ATI) would be an informative and valuable program for you.
Unfortunately, at least 75-80% of the people who start their Appalachian Trail thru-hike fail to accomplish their goal. Why? Most of the time it wasn't because they ran out of money, got seriously ill or injured, or got mauled by bears or bitten by snakes. Instead, it is because they were not realistically prepared for several challenges that are inherent in any long distance journey. Year after year, many hikers who stop prematurely have not adequately prepared themselves mentally and emotionally for the psychological demands of the trail. It is a fact that most hikers have ended their treks because their actual trail experience turned out harder and less enjoyable than they expected. This has caused personal disappointment and frustration (not to mention a loss of time and money) that results from disrupted plans, unfulfilled tasks, and/or deferred dreams.
Fortunately, there is a program to increase your chances of experiencing the joy and sense of accomplishment at journey's end. The main purpose of the ATI is to increase your chances of completing your hike by providing you with the most realistic, comprehensive, and updated information/guidance available anywhere.
about the ATI continued...
Organized and directed by Dr. Warren Doyle, who has walked the entire AT a record eighteen times (+38,000 miles), the ATI is an intensive, five-day program that covers trail history and management; trip logistics/planning; food, equipment, physical conditioning, hiker safety/health; and the most neglected, but most important topic of all, the psychological/emotional aspects of long distance hiking. For thirty years (since 1989), over one thousand future AT hikers (from forty-one states and four foreign countries) have attended and enjoyed the ATI.

IMPORTANT: The ATI is not a 'how to hike/backpack' class. It is not for people who haven't done any hiking at all on the AT. It is not geared to beginners. It is not for people who don't wish to be pushed out of their comfort zones (i.e. close-minded people find the ATI to be a frustrating experience).
After morning classes, participants will do short (5.5 to 7 miles), diagnostic afternoon hikes on the AT between Whitetop and Shady Valley, TN (including Damascus, VA). Non-hiking spouses and significant others will enjoy relaxing in a quiet setting or exploring the many shops in the surrounding communities
"The ATI is an affordable and effective five-day program to increase your chances of fulfilling this dream by offering a realistic preparation for the challenging journey ahead."
The completion rate of ATI graduates is 75% compared to a 20-25% completion rate of non-ATI participants.
ATI SESSIONS (2019)
Oct 7-11
ATI SESSIONS (2020)
March 30-April 3
Sept. 28-Oct. 2
Oct. 5-9
DONATIONS
$300 donation for the five-day/four-night program (per person). More details below.
TESTIMONIALS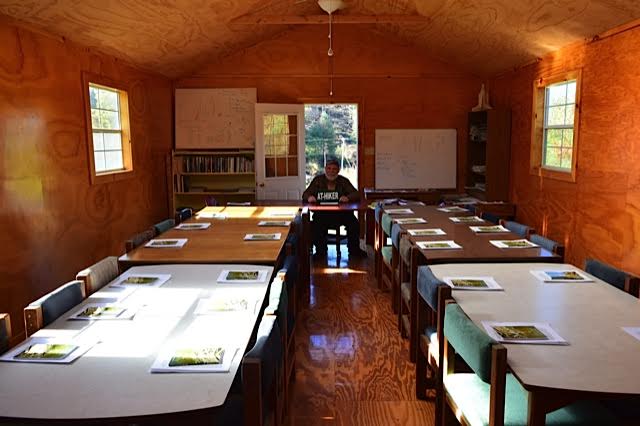 Registration Information
Register on-line or via snail mail. $300 for the five-day/four-night program (per person). Complete the registration form and mail a $50 fully-refundable registration deposit to:
Appalachian Trail Institute, PO Box 93, Mountain City, TN 37683
The remainder of the donation ($250) to be paid on the last day of the program (satisfaction guaranteed).
Your donation includes: on-site indoor lodging; four continental breakfasts; about 28 hours of classroom instruction; about 9 hours of hiking; and, instructional materials.